Hey, everyone! I am so excited to be participating in
Karen Valentine's Annual "Where Bloggers Create 2016."
I had so much fun visiting the party participants last year and made some sweet, lasting friendships. Even if you don't craft or sew, you might still enjoy seeing some of these spaces. I can't wait to start visiting!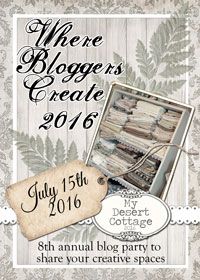 This is my second year to join in the fun, and I'm especially excited because The Man and I just recently completed some major changes to this room. If you know me at all, then you know how much I love my "Happy Space" and how often I have moved things around. I cannot even express how much I am loving this latest redo and how over-the-moon I am to share it with all of you.
Just a warning to those who may be "faint of heart" regarding color or visual stimulation, "Back away now, and you won't be harmed in any way!" This room is 9.5'x11.5', so not big, but it is packed with tons of created fun and loads of color. Grab a beverage, this is VERY picture-heavy!
This metal piece on my door is covered with photos of my sweet family and makes me smile every time I see it. Sooo...are you ready? Well, come on in!
TA-DA!
This is kind of an over-view of the room. As I will explain in more detail, I have divided my room into zones....sewing, computer-desk, scrap booking/card-making, & crafts in general....I love trying lots of things!
We literally stripped this room down to the concrete after we got everything moved out. I helped as much as I could, but I am still recovering from cancer, chemo and radiation, and my stamina is pretty low. So I give full credit to The Man who laid the wood flooring and added the tall baseboards and crown molding....yep, he's definitely a "keeper!" My work came in putting it all back together!
Everything I need is practically within arm's reach. That's a Bernina 1130 from about 1985... it's built like a tank, super-heavy and has served me well over the past 30+ years!
I have discovered that I love to crochet, and I'm self-taught via YouTube.....I've made quite a few of these baskets in various sizes to use for all kinds of "stuff." Before the room redo, I stored most of my paints on this little shelf unit. The Man made it for me many years ago to hold my meager collection of wooden stamps. Now it's a fun place to display some mementos and a few other things.
The view at night.
I opened a few drawers for you; and yes, bottom right is my mani-pedi drawer....I've browsed many a blog while taking care of my fingers and toes! I also have a cute little "photo bomber," and her name is Abby. I'm kind of new to the "Happy Planner" and would like to do a post all about my latest craze....soon, hopefully.
I've used a lot of IKEA furniture and accessories, plus cube storage by Recollections from Michael's.
Another new-found activity for me is adult coloring. I have my supplies in the tool tote above and can simply take it with me wherever.
The IKEA Expedit that is holding the Sizzex, Cuddlebug, etc., use to hang on this wall. At 5'1.5", it was getting difficult for me to reach things. Spoiler Alert....apparently shrinking coincides with aging! Well, isn't that special? Sorry, I just needed to get that off my chest....moving on now! I am thrilled to have the Expedit on the floor, providing lots of flat surface for my tools, and exposing this wonderful wall-space for additional visual storage.
I've been using the IKEA storage boxes for years, but decided I wanted to dress them up a bit with just some ruffled fabric. I also have a few of IKEA's plastic storage boxes....love these because they completely fill the opening.
If you haven't caught on by now, I am a very "visual" person and need that to get my creative juices flowing. The 4x4 Expedit is the first piece of IKEA furniture I bought when I first laid claim to this bedroom when we moved here 5 years ago. Over the years, I have added 4 sets of drawers...love these!
I thought you might like to see what I have in these drawers. The little plastic containers in some of the drawers are the Iris photo holders. I do use them for photos, but I also find them perfect for seasonal or event-specific embellishments and many other things here in my room.
This was an old frame that I decided to paint black, added some linen-type fabric, some baker's twine and now have a cute place to display special cards
These little drawer units are from Walmart and have served so many uses around our home and in my craft spaces over the years. Now they are the perfect home to my Alphas.
The island is a desk-top from IKEA that is 5' long & 30" wide. It rests on 2 sets of Alex drawer units....where else, IKEA! It makes for such a wonderful place to work.
I thought you might like to see what I keep in these two Alex drawer units.
I love, love, love having all this space to spread out when I'm working on a project.
These little things on the corners that look like hands are also from IKEA in the children's area. They were designed to protect little noggins from corner head bumps. I use them to prevent hip bumps and bruises on this aging & shrinking body!
I have my closet very well organized, which makes it much more useful than it would be otherwise. While we had everything out, I asked The Man if he would put an outlet in the closet, so we could hide away the printer.....love this! And again, the photo-bomber is back!
I truly hope you have enjoyed this tour and maybe even feel a bit inspired. I hope to make lots of new friends this year at this blog party, as well as visit with some some old dear ones. If you have any questions about anything, feel free to ask.
Take care and enjoy your Summer!
Carol